Sunday Telegraph magazine
The launch of breakfast television in the UK often made front page news and features in 1983
Here are some highlights of the first day courtesy of Transdiffusion and You Tube:
TV-am staff newsletter
Front cover of the very first TV-am staff newsletter, featuring the TV-am building in sketch form
Good Morning Britain script
The TV-am archive holds many documents. Here's the script and running order for the very first Good Morning Britain. We asked Sir Michael Parkinson to sign it.
Sir Michael Parkinson with the TV Times
Famous Five presenter and TV-am shareholder Sir Michael Parkinson reads through the TV-am launch edition of TV Times on a visit to the TV-am archive. He kindly signed this copy, too. He features on the front cover in cartoon form.
Inside the TV-am launch issue of TV Times
TV Times highlights what viewers will be served up if they tune into TV-am, ITV's new breakfast service
TV Times TV-am Launch issue, January 1983
TV Times celebrates the arrival of breakfast television on ITV with a wonderful illustration featuring The Famous Five presenters who'll launch the station on 1st February 1983. This copy, for the Anglia TV region, is signed by Sir Michael Parkinson.
Invitation to advertisers from TV-am
These breakfast plates were sent to potential advertisers, inviting them to attend a briefing about breakfast TV
TV-am arrives in Camden Town
Booklet offering office space for hire within TV-am's new studio complex in Camden Town, North London
Share
TV-am on Twitter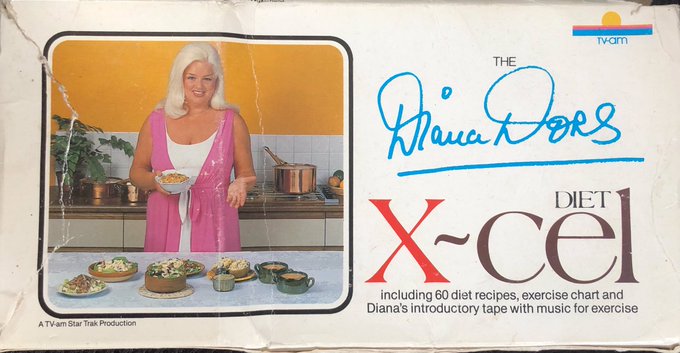 "They called her 'Double D' - Diana Dors had a slimming slot on Good Morning Britain in 1983 co-hosted with @nickowentv. Here's the X-Cel Diet pack that accompanied the 'Dors Dozen' strand. Includes recipe ideas and an exercise cassette. In the TV-am archives. https://t.co/g9Zxln71hr"
Jun 14. @tv_am